Campus Events Guidelines
Cal Poly requires all students, employees and visitors accessing any indoor facility on campus to wear a face covering, regardless of their vaccination status. Learn more about campus face covering requirements.
Current Event Recommendations
for or About
Overview
Mega Events

Indoors: Crowds greater than 1,000
Examples: conventions/conferences/expos/sporting events and concerts
Outdoors: Crowds greater than 10,000
Examples: music or food festivals/car shows/large endurance events and marathons/parades/sporting events and concerts
Get details about Mega Events

Vaccine Verification / Negative Testing

Required for Indoor and Outdoor Mega Events
Self-attestation may not be used to verify status as fully vaccinated or as proof of negative test result for indoor or outdoor settings
Get details about Mega Events below or visit Beyond the Blueprint

Capacity Limitations
Physical Distancing
Face Coverings

Required for everyone in all indoor campus locations regardless of vaccination status
Not required in outdoor settings, regardless of vaccination status

University Travel

Students, staff and faculty can get information at Poly Travel

Guests to Cal Poly (including speakers)
---
Mega Event Guidelines
The following guidance for mega events (both indoor and outdoor) applies to all state and auxiliary organizations, including the Performing Arts Center, Athletics, Career Fairs, WOW, ASI and the Cal Poly Corporation.
Vaccinations and Negative Test Verifications
The procedures below apply to both indoor and outdoor mega events.
Verification Requirements
Verification of fully vaccinated status (Digital Vaccine Card or Actual Vaccine Card) or
Pre-entry negative test result (confirmation letter) is required within three days of the scheduled event for all attendees.
Indoor and outdoor venue and event operators may not use self-attestation as a mode of verification.
Verification Processes
Process for Students
Employee must review Campus Pass and ensure Green Pass status (required for all events)
Campus Pass Notification Color Indications
Green Pass, full access to campus facilities
Blue Pass, limited access to testing sites, health and safety
Yellow Pass, limited access to dining for grab-and-go only, health and safety
Red Pass, no access to campus facilities with the exception of health and safety. Residential students are to remain in their assigned Housing space.
Process for Faculty and Staff
The process for faculty and staff is still being developed. More details to follow.
Process for Campus Guests, Visitors and Community Members
Employee must review a Digital Vaccine Card/Actual Vaccine Card/Negative test result within three days of the scheduled event and it has to match ID (driver's license, student ID, passport). Minors do not need to provide an ID.
Acceptable forms of testing include PCR or molecular tests, antigen or rapid tests performed by testing facilities. Results from home test kits will not be accepted.
Acceptable proof of a negative COVID-19 test result must include a person's name, type of test performed, and negative test result.

A printed document from the test provider or laboratory, OR
An electronic test result displayed on a phone or other device from the test provider or laboratory.

Minors who don't have access to vaccination should get a test. Home test kits will not be accepted.
Notification Process
Information regarding verification of vaccination or pre-entry negative tests must be prominently placed on all communications, including the reservation and ticketing systems, to ensure guests are aware of testing and vaccination requirements (including acceptable modes of verification).
Staffing for Verification
Make sure employees are trained to check these records
Vendors – please refer to the section below related to vendors and contractors
Have staffing at entrances to check for appropriate documentation
Safety Protocols
Face coverings required
Face coverings are required for all attendees for indoor events, regardless of vaccination status. May be removed when actively eating or drinking but then must be repositioned immediately following.
Ensure extra face coverings are available


Event planners should have extra face coverings available to attendees (upon request). Please contact Facilities in your event planning phase to request extra face coverings.
Requirements or Guidelines for...
Career Fairs
Protocol for indoor mega events will be followed for campus-wide career fairs. Departmental career fairs with expected attendance of 1,000 attendees/participants (may be dispersed throughout the day) are also expected to follow the mega event protocol.
Overnight Housing
For overnight housing accommodations and guidelines, please contact University Housing at housing@calpoly.edu.
Campus Guests, Contractors, Vendors
Contractors who access campus are asked to ensure their employees comply with the vaccination policy prior to accessing campus. Visitors are required to comply with other safety measures such as face coverings.
Off-Campus Events
Cal Poly sanctioned or organized events or meetings for faculty and staff held off campus must comply with appropriate public health guidance.
Attendees Who Are Minors
Must follow face covering guidelines

Minors are permitted on campus and will be required to follow the face covering guidelines (always required indoors, unless actively eating or drinking). However, if food is going to be provided, an outdoor venue should be considered.

If not eligible for vaccine

Minors who are not eligible for vaccination are required to use a face covering indoors, and are encouraged to wear a face covering outdoors if physical distancing is not possible.
Also, encourage hand washing by providing washing stations or hand sanitization stations.
Keeping the groups smaller in number might also be beneficial.
Minors not eligible for vaccination must provide proof of a negative test within three days of the scheduled event/stay and will also be required to wear face coverings indoors.

If vaccine eligible

Minors who are eligible for vaccination and will be staying overnight must follow the same protocol as our students.

They must provide proof of vaccination or a pre-entry negative test within three days of the scheduled event/stay.
Face coverings will be required for all indoor locations.
---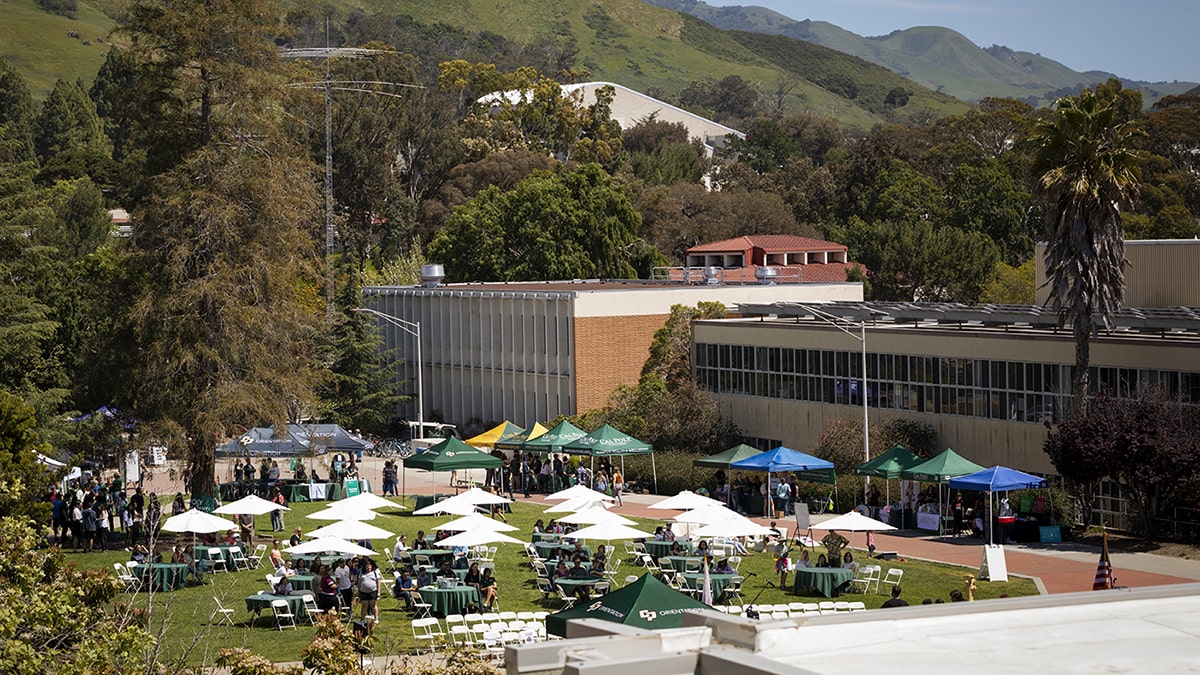 Booking a Campus Event or Facility
Campus Academic or Administrative Department

Class Meeting or Formal Study Group (one-time or recurring meeting outside regular class time)
Instructionally Related Activity
---
Student Clubs

Includes Fraternities and Sororities
→ Use E-Plan
---
Off-Campus Entities and Individuals

Not sponsored by a campus group
Co-sponsored or sponsored events utilizing State Facilities to host off-campus attendees
About These Guidelines
Event guidelines are subject to change based on guidance from the state, SLO County Public Health, the CSU system and Cal Poly.
For additional details, see the Campus Administrative Policy (CAP 140) that governs the use of University property.
Related Content